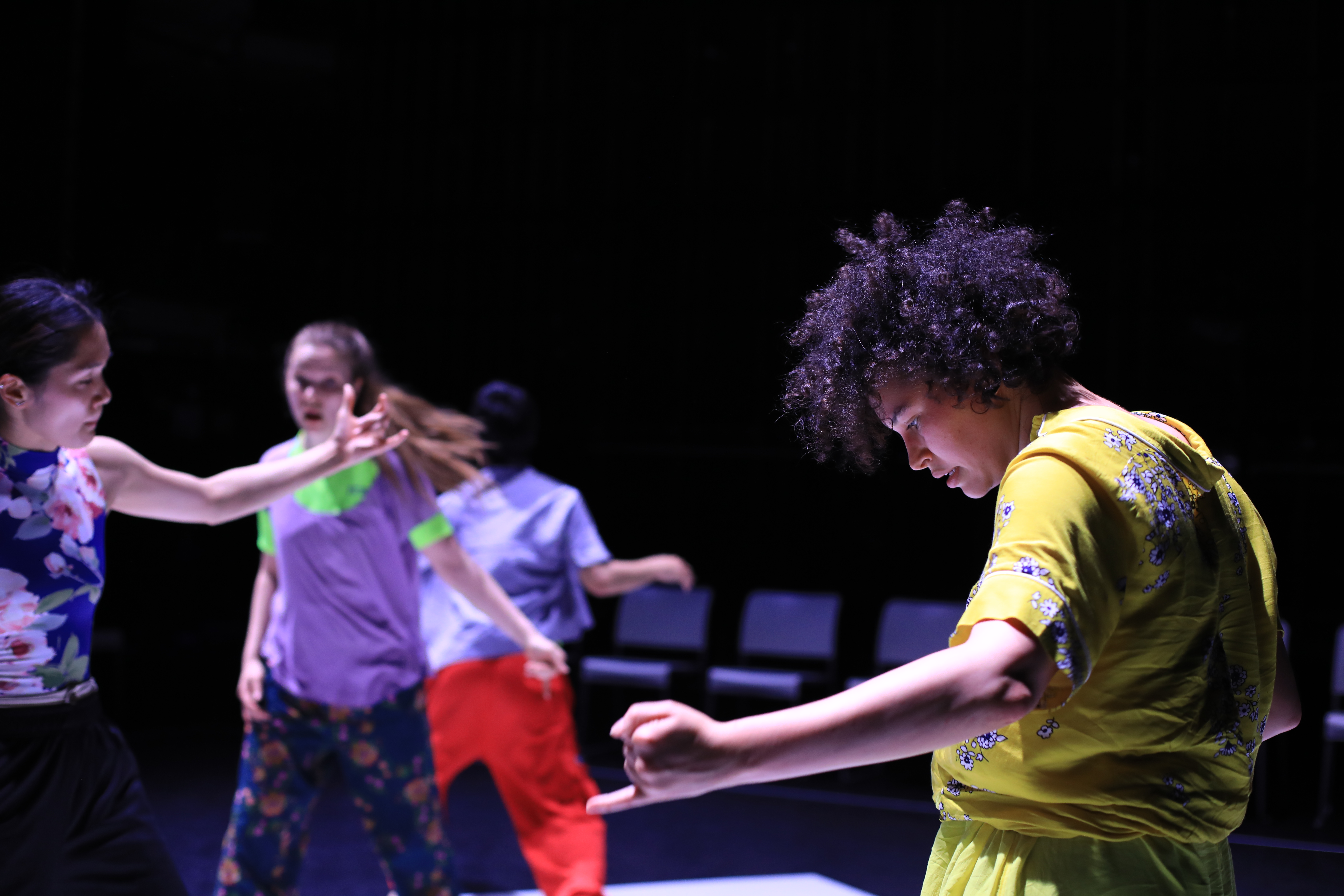 Nincompoop 2023 at Trinity Laban by Asher Studio

I am interested in dance and movement, and through these mediums, I am fascinated by exploring the phenomenological aspects of human beings, particularly through the neurodivergent mind and body. I enjoy closely observing how we navigate life through playful self-expression. Through choreographic experimentation, I aim to challenge the boundaries between observer/subject and observed/object. My work offers an open dialogue between the concepts and meanings that emerge during performance, allowing the mind to imagine and ponder about human existence, disability, and gender. I frame narratives creatively by working with actions and game methods, and I am interested in developing creative movement approaches rooted in the field of improvisation. My creative practice combines division performance, somatic practice, clown principles, and dramaturgy.
---

I received my dance education from the BCDA Budapest Contemporary Dance Academy (2015) and the Salzburg Experimental Academy of Dance (2018). Recently, I earned an MFA in Choreography from the Trinity Laban Conservatoire Music of Dance (2023) with a bursary from the Leverhulme Arts scholarship.

In 2019, my solo performance work titled "Once Upon a Time" was selected for the Festival 10 Sentidos Choreography Competition in Valencia, as well as for the Resolution Festival 2023 at The Place.

In 2019 and 2020, I received economic, mentoring, and artist support from Roca Umbert de la Arts, Teatre Municipal de Lloret de Mar, Theatre L'ateneu De Carla, and the December Dance Festival. This support resulted in a new multidisciplinary performance work titled "Badasrag" scheduled for a premiere at the Sismograph Dance Festival in Olot, Spain, the festival was cancelled due to COVID–19.

During the pandemic, I received a commission named "Köszönjük Magyarország!" from the Hungarian National Dance Theatre and the Hungarian Ministry of Human Resources. This project reworked "Badasrag" for performance in youth centres, primary schools, and village festivals in the southern plain of Hungary.

In 2022, I choreographed for the Architectural Association Interprofessional Studio in London, with a performance presented at the Eco 2:0 Festival in London and Glasgow.

Besides performing and creating I also share my dance practice, methods at various organisations and dance studios, such as Dock 11, Royal Conservatoire of Scotland, and Trinity Laban Conservatoire of Music and Dance, Choreolab Festival and across Europe.

Recently, I was awarded by Arts Council England - Developing Your Creative Practice to research and develop a new experimental solo performance in the field of Dance and Clown Theatre.

Photos: Manolo Magazin